Napoleon "Nip" Vann was born in Oklahoma about 1882. He was a performer in the Miller Brothers 101 Wild West show, with Tom Mix. Nip Vann became a cowboy movie actor in 1909, making movies at Prescott, Ariz., starring in one called "The Escape of Jim Doolin". He was in the Calgary Stampede rodeo in September of 1912.
On November 12, 1913 he came to the border town of Caney, Kansas with several men, including Alf Bell, and J.D. Lannom, for a load of liquor. He had arranged for a New York film company to work near Okesa, Okla. It was the need for sheep to be used in the film which brought him into the Caney area. His version was that he went to the Elks lodge at Caney to telephone a rancher about the sheep. At any rate, all were drunk as Ol' Cooter Brown, and causing a disturbance in front of the Elks Hall there, where there was a lodge meeting in progress. Nip tried to get into the Elks Hall, claiming that he was an Elk, but had no card. He was thrown out, but still persisted in trying to get back in. Chief of Police John McInroy came upon the scene, and tried to settle Vann down, as he was reported to be a close friend of his for several years. Vann resisted being arrested, and shot and killed McInroy. Now, Nip claimed later that it was an accident. He was drunk, and he was merely trying to turn over a revolver that he carried in his waistband, under his coat. He claimed that, as he pulled the revolver out, it snagged on his coat, discharged and killed McInroy. Others say that he pulled the gun from his boot and purposely killed McInroy. Either way, the officer was dead, and Nip and Alf Bell wasted no time heading south for the Osage hills in Vann's car. A massive manhunt was organized, but came up empty. Lannom turned himself over the following day, saying that he had nothing to do with the killing.
In December of 1915, there were reports of him living in a cave two miles northeast of Okesa, but upon investigation, it was believed that the cave had been occupied by two trappers. Vann was presumed to have left the country for parts unknown at that time.
In 1916 he was apprehended at the Richmond, Va. post office, but he managed to disarm Deputy Charles Cope, an Osage county Ok. Deputy, hold him at gunpoint, and escape. Ten years later he was found in Mexico but disappeared before a warrant could be served.
In March of 1937, nearly 25 years after the killing of McInroy, Deputy Sheriff Bert Ziegenfuss who was a close friend of McInroy, and had swore to find Vann if it took the rest of his life, got a telegram from the sheriff at Nogales, Ariz., saying Vann was held there.
Gov. Walter Huxman issued requisition papers for the return from Nogales, Ariz., of Vann. Mel Gibson (not yellin' Mel), of Independence, deputy sheriff of Montgomery county, went to Nogales to return Vann.
In July of 1937, Nip Vann was found guilty of fourth degree manslaughter, and sentenced to two years in the state penitentiary. He was in the last stages of tuberculosis at the time of his trial, and that figured into the verdict, along with some question of whether the shooting was indeed accidental, or intentional. He was released in 1938, and was not heard of after that time.
His place, manner and time of death are not known, nor is his place of burial.
Marshal McInroy had one of the largest funerals in Caney, up to that time, with 1,500-2,000 people attending. He was a good man, and held in high respect.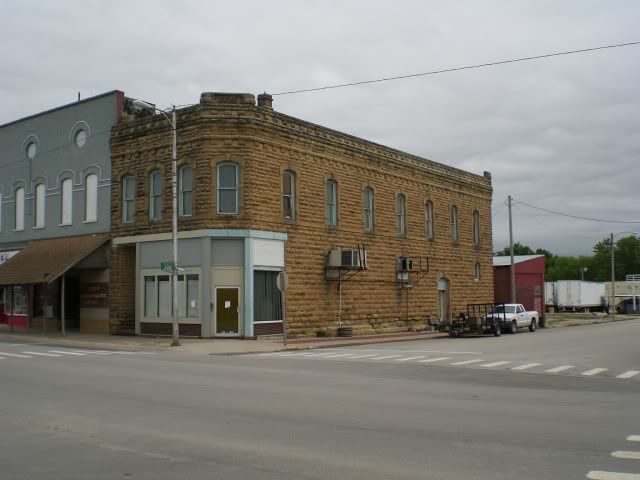 Elks Hall, Caney, Kansas. McInroy was killed across the street from the side door.
Memorial Plaque to Marshal McInroy, on the spot where he was killed
Wanted Poster for Nip Vann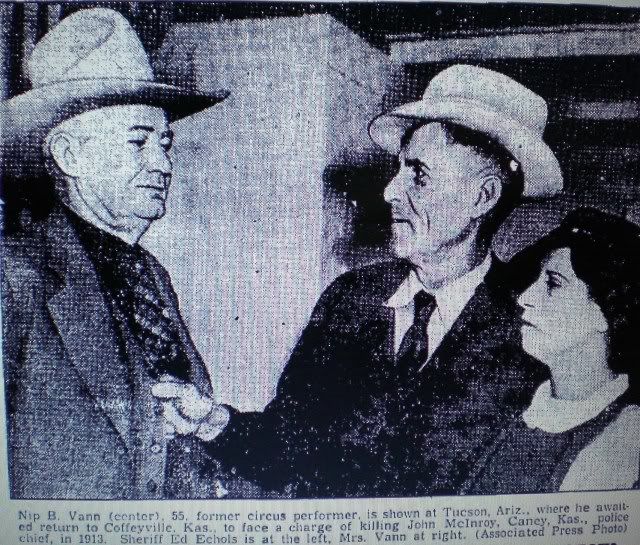 Nip Vann captured after 24 years
This message has been edited. Last edited by: Daniel Baker,


( formerly Cowboy Dan)